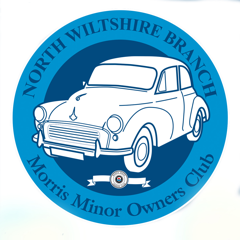 North Wilts Branch of the MMOC


Committee People


Chairman: Bill Reed
phone 01666 822388

Secretary: Gill Waters gillian.waters@outlook.com

Treasurer: Pam Holmes



Our meeting is normally on Thursdays and sometimes at the
Red Lion at Castle Eaton
.


About our Branch


Our aim is to provide a social focal point for all Morris Minor enthusiasts and owners in the North Wiltshire area.

We offer friendship, technical advice and guidance (where we can) in a welcoming atmosphere through our regular meetings. All models and conditions of vehicles are part of our club and all loved. It is not important that your car is in immaculate condition, we have them in all conditions! This is a club for those who care about their Minors.


We are open to all enthusiasts but it is not necessary to bring your car to every meeting or even to own a car. Your enthusiasm and energy is all that is needed.

We meet monthly at various locations throughout the year, so please refer to the events list to be able to find us.

We are always looking for new members, of all ages, so don't be shy, make contact and come along to our next meeting. You will be pleasantly surprised.


Who to contact for various types of matters:

Contact Bill about our committee meetings including dates and locations email
bill@euclidvillas.co.uk
.

Contact Sarah about the Newsletter for branch members, email
sarahcello@hotmail.co.uk


Contact Malcolm about events, email
sarahcello@hotmail.co.uk


Contact Pam about venues such as for the Christmas meal.

Contact Susie and Gill about the Raffle prizes

Contact Julian about things for the website email
j.j.marshall@me.com


Contact Bill about our annual Branch Rally email
bill@euclidvillas.co.uk



Contact Gill about branch clothing for members (email address gillian.waters@outlook.com)

The car badges cost £14.00

The lapel pins cost around £2.50 each.


Garments include polo shirts, sweatshirts, fleeces and jackets.

Details are below, if you would like an item of clothing can you please let us know what you require, also colour and size, see order form.

CLASSIC POLO SHIRTS

Colours: Black, Burgundy, Dark Royal, Gold, Navy, Red.

Sizes: 35"/small 39"/Medium 43"/Large 47" XLarge
51"/XXLarge 56"/3XL

Price £13.00 inclusive of logo

SWEATSHIRT DROP SHOULDER (We are told that this sweatshirt maybe better for the taller customers as the sleeve length is longer)

Colours: Black, Burgundy, Dark Royal, Gold, Jade, Navy, Red.

Sizes: 36"/Small 39"/Medium 43"/ Large 47"/XLarge
51"/XXLarge 56"/3XL

Price: £15.00 inclusive of logo

Please make your request known for purchasing any of these clothes to our Chairman


To see images, click here
clothes

_______________________________________


Contact websites that have been helpful to our members (but come without qualification and with reference to one of our users):

Used by Julian:


Morris Minor Owners Club
Live traffic reports in UK phone 64644
RAC
UK public transport
National Railways
Cycling information from Sustrans
Hotels - Ibis in Europe
Camping and Caravan Club sites


Garage for Morris Minors


Charles Ware

George Pothecary mobile garage (comes from Cricklade to your Morris Minor or home and fixes engine problems) 01793 750 312 and mobile 07973 750 312.


Garage services for Shrivenham & Swindon- C.J. Parry Ltd
Parts for Morris Minors in Birmingham

Extra parts from Castle Combe stores

Modifications to Morris Minors at JLH



Used by Alex

Cotswold MotorQuip, Cirencester, for spares

C.J. Parry ltd, Highworth 01793 861 196 for MOT etc.


Insurance:
RH Insurance
01277 206911
E-mail: www.rhclassicinsurance.co.uk


Minors On Tour

minors-on-tour.org.uk


5 CAPITALS
video http://youtu.be/KockgIvnNZU

The Morris Minor 5 Capitals Tour 2010 - Sponsoring The British Heart Foundation - YouTube